How to upgrade your kitchen with granite countertops
1,2,3 How to shop for your granite countertops
1.
Make some design decisions with our Virtual Kitchen Designer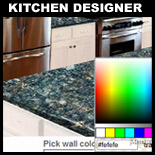 The virtual Kitchen designer is a great tool for you to picture your
granite countertops
in your home. You can change the cabinet and wall colors to reflect your current colors in your home or you can change then to the colors that you would like to have in your kitchen. Recent Updates:
You may now choose from 16 million colors for your walls to go with your new granite countertops.
We have just added the option to change the backsplash from none, 4 inch or a full matching granite countertops backsplash.
We have added printing capabilities so once you have the kitchen wall colors, granite countertops, and cabinet colors set, simply print out the design per the instructions.
We have added request a quote to the kitchen designer application so that you can capture the details of your selection in your quote request.


Click here to Design your Kitchen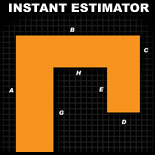 The instant estimator is a great way for you to get a ballpark price instantly on what your new
granite countertops
will cost. The estimate ask some detailed questions to calculate the square footage of the countertop taking into account the various edge types for each edge of the
granite countertop
. Also some of the standard options associated to your
granite counter tops
purchase are collected and then you will be presented with an estimate based on the data you have entered and selected. This instant estimate is not a binding estimate but an estimate that you can use to understand approximately where your job should be based on the accuracy of the data that you entered. We encourage you to reach out to us when you are ready for a more accurate quote.


Click here to create your instant estimate right now!
Check out the work that we have done! In our gallery we have many of the granite countertops that we have done in recent months and will continue to add more as new photos are collected. Check out our granite countertops gallery and get an idea of the quality craftsmanship and attention to detail. Understand that some of the photos may contain images in various phases of construction. A picture is worth a thousand words right.
As you progress through this process you will have a better understanding of what to do, How much it will approximatly cost and the quality of work you should expect.
Our mission is to provide you with superior products and services through our network of fabricators. We provide access to some of the best craftsman in the business. We help ensure that your experience with our providers exemplifies the Quality, Service and value that YOU expect. If at any time you have any questions please feel free to contact us during your granite countertop purchase and installation.
Granite Countertops