FireUps Helps Granite Shops Turn Website Visits into Paying Customers


Joel Davis
Special Contributor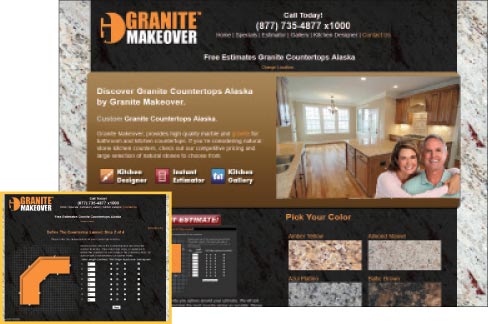 Granite shops waiting for their sales to catch fire can get some expert help in igniting customer interest with FireUps internet marketing services.
Paul Gallagher, owner of FireUps, has been guiding granite businesses in the development of high-return internet marketing strategies since 2009. "What I do is get them started with going directly after the consumer with a pay per click advertising budget and construct a website for them, or use one of my existing brands," he said.
Gallagher now represents about 25 clients all over the U.S. Many of their referrals are generated through his corporate website,
granitemakeover.com
, which provides customized information about each of his clients in their own local markets. "Based on the local IP address of the visitor to the website, the content of that website is changed to represent them in the local area," he said.
This is just the beginning, though. Gallagher's efforts don't stop with giving clients access to customers through
granitemakeover.com
.
"If they have a corporate website already, I say, 'Great, keep it, hang onto that," he said. "I put them on my granite makeover website in that market, and we drive all the customers there. We look at their corporate branding as a whole and possibly create other localized websites for them. We attack this on all fronts."
One of the best examples of the benefits of a thorough internet marketing campaign is the client that led Gallagher to discover he could fill service needs for the granite industry, which has been the basis of his business since.
The owner of a shop in New Hampshire approached Gallagher for help with building a website and then marketing his services on the internet. The business had great potential not yet being capitalized upon.
"He was on a major road, 26,000 people a day drove by his showroom, and he was doing two sales a week," Gallagher said.
The first hurdle was helping the client realize the need for a realistic marketing budget. "He came to me with a quote from a large (internet marketing) organization," Gallagher said. "They said $500. I said, 'It's not enough money– how many sales are you looking to generate?' I said, 'We need to go into market with a $1,500 budget, and we'll see what that does.'"
Although the client was unsure about committing that much money, Gallagher convinced him to undertake a trial venture. "I said give me $750 to start, we'll run it over two weeks and see how many people we can get in the showroom. So we did it."
That's when the client hit pay dirt. "In two weeks I went in to sit down and get the next half of my payment, and it was standing room only in his showroom," Gallagher said. "I couldn't even get his attention. Because he had the right sales infrastructure and the right business process, it was just perfect. That company is still with me today. Five years later, they are doing about 50-80 countertops a month with me as their only advertising."
Internet marketing is controllable. Clients can easily adjust their online presence as sales volumes increase. In the case of his first customer, Gallagher said one of the logistical challenges was adapting to success. "Within three months we had to back off on advertising because there were too many sales happening," he said. "It's a controllable marketing challenge. Drive sales volume up until you feel pain on the other side. That gives them an opportunity to correct operations in the back from a volume standpoint. Then we go back at it again and turn the volume back up."
The process begins with convincing customers why to take a chance on a participating shop. Competition based on pricing can be the initial lure. "It is a very competitive market," Gallagher said. "What I have found is that price point marketing can be a stepping stone for a company that is looking to take a piece of their local market. A lot of people are afraid of it. They feel like it is going to hurt their reputation or is going to negatively affect their business, but what happens is it allows them to get their phone ringing."
Increasing the volume of customers allows businesses to begin tweaking their operations to maximize their attractiveness to new customers. In turn, this lets the shops move away from having to squeeze their own bottom lines to get new prospects in the door. "It allows them the opportunity to talk to some people in the market and find out what is really going to make that sale happen," Gallagher said. "As we increase the traffic, they are able to lighten up on the price point marketing. This is a transition I've got to take these guys through."
One of Gallagher's clients has competitors whose prices are 25 percent lower but remains more than competitive despite the difference. "He's developed a brand," Gallagher said. "He's developing a reputation in the market and a consistency that is allowing him to keep going."
The clients who use FireUps' services provide enthusiastic testimonials about their effectiveness:
"Using FireUps is the best thing that happened to me; our business would not be the size it is today without Paul's talent. We would not give up our relationship with him, period. We have tried many marketing plans, none of them produced. Paul's system took a couple days to produce and it hasn't stopped yet."
— Max, Phoenix
"Granite Makeover is the driving force behind my consumer leads; it brings in at least 40 potential customers a month. From the first day I called Paul, three years ago, through today, he has always been genuinely interested and invested in the success of my business. He always actively listens to me and incorporates my ideas into the equation. Paul's wealth of knowledge about the natural stone industry and the inner workings of search engine optimization gives him the edge that no one else can offer. What that means, ultimately, is now you and your company have the edge over your competition."
— Lloyd, Virgina.
"I have been working with Paul from FireUps for a number of months now and have seen not only a dramatic increase in sales volume but more importantly a marketing program that is controllable. With Paul's program I can virtually, in real time, turn the lead volume up or down as my schedule allows. Paul is extremely responsive and takes the time to understand my individual shop so to target the message I want to get out. I would highly recommend anyone to work with him!" — Chris, New York
Gallagher has a background in graphic design and website development. His education in internet marketing began while working with a car loan company in the early part of the last decade. "My job was to purchase all the media to generate the leads, and it would go into our national distribution network of car dealerships," Gallagher said. "Through that, I got to manage some really large budgets and got an understanding of how to drive business on the internet."
This led to learning opportunities during other ventures. "I got into mobile marketing building landing pages for mobile devices and understanding the new mediums that were coming out," he said. "It was great working for Fortune 500 companies, Pepsi, Coca-Cola, lots of big brand names we were working with. I got bit by the internet marketing bug."
What makes FireUps different from other internet marketing firms is its focus on individual clients. "What I offer that my competitors don't is a direct marketing channel," Gallagher said. "The customer is exposed to the information about what their business provides in quality and services."
One website that Gallagher considers a competitor makes its own clients fight for customers in their local markets. "What they do is provide the consumer with a sort of one-stop shop for project needs," he said. "When visitors to the website fill out that form, they don't know anything about who they are choosing from. Then it goes to four people in the local market that are interested in paying for that person's customer information. They all compete for that business, trying to get that first appointment. The leads I generate are typically more quality."
FireUps is committed to not undercutting its own clients, Gallagher said. "Based on market size and potential sales opportunities and dollar commitment level, I provide them with an exclusive relationship," he said. "They are able to feel confident that whatever they share with me is not going into the hands of their local competition."
Clients that meet Gallagher's minimum criteria get exclusive access to FireUps services in their local markets. "I will not work with anybody else in that market," he said. "What's important is the relationships that I build with these fabricators. I share a lot with them as well to help them grow their business. The exclusivity element is important."
FireUps is promoted through the classified ads in the
Slippery Rock Gazette
. "It's been very useful," Gallagher said. "It's brought me very good quality contacts and people who are looking for this service. I'm very pleased with how its worked for me."
For more information on FireUps, call 877-877-1916 or visit the websites
www.fireups.com
  and
www.granitemakeover.com
.
Source:
http://www.slipperyrockgazette.net/index.cfm/pageId/1645/FireUps%20Helps%20Granite%20Shops%20Turn%20Website%20Visits%20into%20Paying%20Customers/
Our mission is to provide you with superior products and services through our network of fabricators. We provide access to some of the best craftsman in the business. We help ensure that your experience with our providers exemplifies the Quality, Service and value that YOU expect. If at any time you have any questions please feel free to contact us during your granite countertop purchase and installation.
Granite Countertops