Remnants From 19.95 per sf Granite Countertops Specials : Granite Makeover Jackson
Granite Makeover MS is a full service dimensional stone center located at 1025 McCluer Rd. Jackson MS 39212. We specialize in residential and commercial kitchen countertop and bathroom vanity fabrication and installation but offer a variety of other products and services as well.
Now Specials are Available in Baton Rouge Louisiana! Call (225) 224-3390!
Please call for an appointment to ensure an sales associate is onsite to assist you.
Address:
1025 McCluer Rd. Jackson MS 39212
Call (601) 878-1166
We Service Louisiana too! Call (225) 224-3390!
Always FREE In Home Estimates. Call Brian today to schedule your appointment! (601) 878-1166
Visit Granite Makeover Jackson Visit Us Online:
Huge Inventory Remnant Sales $19.95/SF - Material Only.

Restrictions May Apply. Subject to change without notice.
Visit Granite Makeover Jackson Visit Us Online:
We specialize In 3CM slab Granite - No 2cm or No Pre-manufactured.
Only First quality materials.
You Choose Event
THIS WEEK ONLY!
1. *Free tumbled Travertine back splash (Up to 30 sq ft - material Only )
2. or *Free bathroom vanity (up to 60" from remnant inventory)
3. or *free demolition of existing tops
4. or your choice of 4 FREE Undermount Sink Models
*with the purchase of granite Countertops

Subject to change without notice. Restrictions may apply. 50 sq ft minimum kitchen Visit Granite Makeover Jackson Visit Us Online:

"My experience in working with Granite Makeover MS was phenomenal. The staff was very efficient and helpful during the entire process. I was extremely pleased with not only their competitive prices but with their ability to install the granite in a timely manner. Granite Makeover MS had a good selection to choose from and the turn around time was very quick. I am looking forward to doing business with Granite Makeover Jackson in the future!"

- Alan Cook, Cook Construction Company

"We sold our home and moved to the Brandon area to be closer to our grandchildren, great grandchildren and daughter in law. Finding our home was such a great joy. Finding the perfect natural stone contractor for our homes countertops was another matter. After much searching, thankfully, we discovered Granite Makeover. The manager of Granite Makeover MS listened to every detail and completely understood what we were looking for. Their employees were courteous during the process of measuring and installing our countertops. They made sure that we were satisfied with every piece they laid out and the finished product with the curves and ogee edges is amazing."

- Rosemary and Roy Sills

Call (601) 878-1166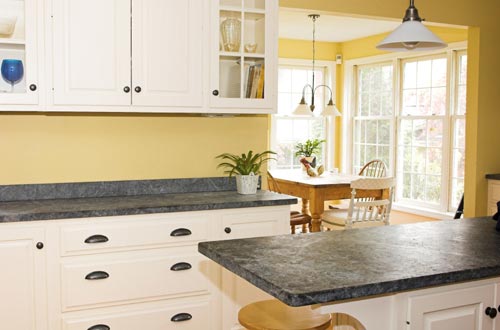 Our mission is to provide you with superior products and services through our network of fabricators. We provide access to some of the best craftsman in the business. We help ensure that your experience with our providers exemplifies the Quality, Service and value that YOU expect. If at any time you have any questions please feel free to contact us during your granite countertop purchase and installation.
Granite Countertops