Why are granite countertops considered an asset while selling a home?
granite countertops are over the past 30 years continue to gain in popularity for middle upper class markets. Granite is a natural material farmed from the earth. No 2 countertops will be exactly the same. They are durable and will last longer than the home. They stand up to all normal kitchen activities and come in a variety of colors and styles. Granite tells and buyer that you care for your home and that you have invested in quality for your home. Granite can set your home apart from the rest of the homes in the area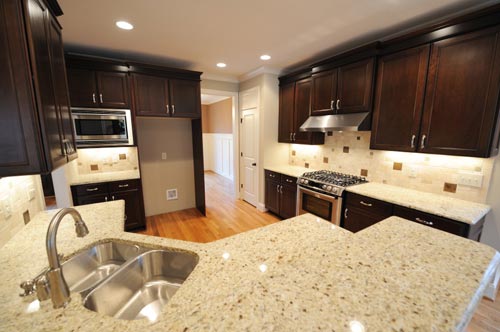 If buying granite for resale be sure to work with a specialist that can help you to select the right colors and edges to appeal to the most buyers. Just because you really like pink waves does not mean that most of the buyers in the market will. Be sure you look at current color trends and colors that accent the rest of the room.
We selected butterfly beige for our kitchen mainly because we wanted to lighten up our kitchen (we have mahogany cabinets, mahogany floors and had dark brown laminate countertops) Butterfly beige gave us mostly white ad cream colors with dark red highlights that matched the current colors in the room. We then edged with 1/4 round to soften the corners and did radius edges on all of them (we have little ones and foresaw the next owner would as well.)
Our mission is to provide you with superior products and services through our network of fabricators. We provide access to some of the best craftsman in the business. We help ensure that your experience with our providers exemplifies the Quality, Service and value that YOU expect. If at any time you have any questions please feel free to contact us during your granite countertop purchase and installation.
Granite Countertops